HOW OUR COURSE WORKS
Step 1: Complete the academic sessions.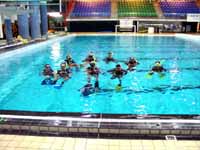 To enable you to score at least 75% in the International multi choice exam. Our students normally achieve a score of at least 90% in this exam.
Theory sessions are held at the shop 6pm – 8pm consecutive nights Wednesday through to Monday.
You can choose to complete the academic portion  either by:
Attending Instructor based lectures with an projector, a PowerPoint or DVD based program; or (if you want to complete this in your own time ) you can use our library DVD's or  opt for elearning  on a computer at home or at work. Before you enrol we will send you a medical form which you need to take to your GP. Please show this when you pay your deposit for the course. 
Step 2: Learn the key dive skills in a deep pool: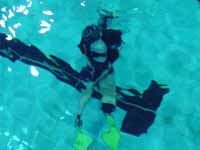 at a depth that is 25% of the maximum depth you will be certified to dive to. This is necessary to ensure you are fully prepared for the sea dives later in the course. We use the Kilbernie Aquatic Centre's diving pool – the largest & deepest diving pool in Wellington. The pool measures 25x 16 x 5m and is heated to 26 degrees C. Even so it is a good idea to bring a polyprop t shirt to wear in the water.
Pool sessions are run immediately after the academic lectures.
Steps 1 & 2 take one week to complete.
Step 3: Apply the skills you have learnt in the sea.

For your international ticket you are required to complete four sea dives under Instructor supervision. We will take you to four different dive sites. Dives normally take one hour and these are completed on two consecutive Sundays providing conditions are good. This means the whole course is completed in two weeks. At this point you are an international certified scuba diver.
Sea dives are on two Sundays 9am to 3:30pm.
Step 4: Maximise your dive confidence, independence and local knowledge.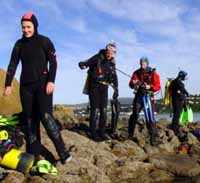 Although you are now a certified diver we recommend you take this final step. It's free, and it is important if you are to maximise your diving knowledge and training.
We will provide all the equipment for you to do an extra six dives (giving you a total of 10 sea dives) by joining the club's dives on Saturday morning at 9am. Instructors & Divemasters choose the best site for the day & give a full dive briefing at the site before everyone begins their dives.
We will arrange an experienced buddy for you or you can choose your dive partner. You can dive with the instructor if you want, but the aim is to get you into a more realistic scenario of diving without an instructor guiding your whole dive. We want you to develop independence and confidence making dive decisions so you become a proficient and independent diver. If you have achieved this confidence and proficiency at the end of your course, we have completed our training objective.
These additional club dives are free. You will meet more people interested in diving. You will add another six dive sites to your local knowledge. All we ask if you take this option is that these are completed within six weeks of you finishing stage 3. This will means your total training is 50 hours with 10 sea dive. Remember you don't have to do this stage – only 1, 2 and 3 are required for your certification.
Island Bay Divers' Instructors believe they have the best course in New Zealand – stage 4 is one of the reasons we know this is true.
It's a unique dive course – why not check it out?

Contact Island Bay Divers for more information or to book your dive course >